By Michael Weber
Discuss on
Yuku
Can't Post?
Here's How

Super-Senior Bill Clark

We all know the dates: September 16-17, 2006. We all know the story: 5

Duquesne University basketball

players were shot in an on-campus shooting. We all know the previous year's record: 3-24. So why exactly did Bill Clark and Damian Saunders come to Duquesne? Your guess is as good as mine. Uttered last week by Clark and Saunders respectively:
Clark: I was thinking, I would never go to a school like that.
Saunders: My first impression when I got here was, What the hell am I doing here? A guy who was supposed to be going to Marquette, I thought I was bigger than life.
You all know what happened in-between: 4 non-losing seasons, a trip to the A10 finals, an NIT appearance, 2 DPOY's, a first team selection, 2 second team selections...and 2 players, turned into adults with their time on the bluff. Everhart explained to the PG last week, "I really believe Duquesne has been good for those guys." Well coach, that makes two of us. As a recent graduate of Duquesne, I too know the feeling you get at Duquesne. It really is something special. Every program that tries to get up off the mat has to start somewhere. You need those building blocks. You need those bricks that can lay the foundation for a strong program. We found those two pieces with Bill Clark and Damian Saunders. At a time when everyone(and I mean everyone) was laughing at Duquesne, those guys believed in Coach Everhart. I've said all along that winning is a three-step process. You can't jump right from losing to winning. There is the rung in the middle; "Being Competitive". Those guys took us to that level and started the step onto winning. Someone will have to take us the rest of the way, because when Duquesne finally breaks through to the NCAA Tournament, we will have to look back at these 2 players, and the top 10 moments of their careers at Duquesne:
10 - December 1, 2010; In the first basketball game at the Consol Energy Center and facing one of the best teams in the country,

Pittsburgh

, Damian Saunders led the Dukes with 20 pts, 11rebs, 5assts, 1stl and 3blks.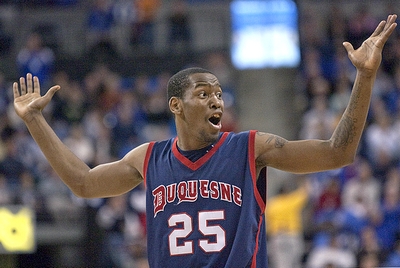 Super-Senior Damian Saunders

9 - January 15, 2011; Facing a very difficult and important home game, Bill Clark led the Dukes to an outstanding 78-66 win over Temple at the AJ Palumbo Center. Clark led the way with 22 pts, 6rebs and 1asst.
8 - December 2, 2009; In a game that Duquesne fans will remember forever, for many reasons, Bill Clark led a charge, before falling to Pitt at the final game at Mellon Arena, 67-58(2OT). He finished with 23 pts, 9rebs, 3assts and 3 stls.
7 - December 30, 2009; Duquesne loses a tough road game to a very good Old Dominion team, 63-54. Saunders flirts with a triple-double as he records 11pts, 10rebs, 1 asst, 1stl and 9 blks.
6 - February 14, 2010; Bill Clark drops 34 pts, 5 rebs, 5assts, 1stl and 2 blocks in a 103-82 win over LaSalle.
5 - November 17, 2009; Facing a difficult challenge, the Dukes came away victorious at Iowa on a Bill Clark three-ball. Saunders finished with 16pts, 16rebs, 2 assts, 3 stls and 3 blocks. Clark, who hit the game-winner, finished with 20pts, 6rebs, 1asst, 1stl...and one huge trey.
4 - February 7, 2009; Duquesne defeats #9 Xavier in front of a sold-out AJ Palumbo Center 72-68. Saunders and Clark combine for 24pts, 8rebs, 5assts, 2stls and 3blks.
3 - March 18, 2009; NIT Loss to Virginia Tech.
2 - March 14, 2009; A10 Conference Championship Loss to Temple.
1 - May 6, 2011;

Graduation
I think I can speak on behalf of the entire Duquesne community in wishing Bill Clark and Damian Saunders nothing but the best of luck in their future endeavors. You've meant alot to Duquesne. Your legacy will last forever.