By: Michael Weber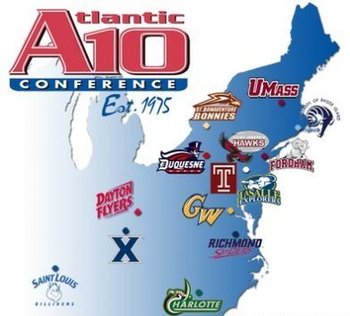 Many of you out there know all to well that I am about to graduate from law school. I often times in my first year of law school looked at some of the cases that were assigned to read and said somewhere inside my brain, "that couldn't possibly of happened. I mean, that's just to bizarre. Someone would have to literally think this up." Well, after a few years of reading all of those things, I no longer see the world the same way anymore and basically nothing surprises me; like how there are 14 teams in the Atlantic 10. Something just doesn't sound right there. Now, I graduated with a BSBA in Accounting and never took a geography class past 7th grade. But, I did manage to learn somewhere in my life that St. Joe's, LaSalle and Temple were all in Philadelphia. On Wednesday night a huge snow storm hit the Philadelphia area. Somehow, Temple decided to play their home game and the SJU and LaSalle game was postponed to the next night. I scratched my head for a moment and arrived at the conclusion that this snowstorm must have touched on the edge of the Palestra and completely missed the Liacouras Center. I mean they are only
4.1 miles apart
. I just can't wrap my head around how two arenas so close together could manage to arrive at two different conclusions regarding playing a game on that night. Someone must have been thinking about "fan safety".
It's just another week around this league; another week, more bizarre stories. Check 'em out after the break.
It never occurred to me what crowd control was all about. I mean, in this league the arenas are like 50-60% capacity on good nights for most teams. But, apparently Brian Gregory has his own
bodyguard
? I wonder if other coaches in this league have the same thing? I know Ron Everhart walks out onto the floor at the AJ Palumbo Center with a police officer. Maybe I am not in touch with reality and teams do have a lot of security but to have a newspaper article about it seems a little over the top if you ask me. I mean, wouldn't you want those people to be discrete anyhow? Onto the game action for this week...We are starting to see a little grouping of 5 teams at this point playing for 4 First Round Byes in Atlantic City, NJ. Xavier and Duquesne remained tied atop the league at 7-0 followed by Temple, Richmond and the upstart fighting Derek Kellogg's. Outside of that, it might be hard for another team to make enough of a jump to get into that top 4. I'll venture to say that 4 of those 5 will be the teams who receive a first round bye. Aside from that, the only other real note of this week is that the Player of the Year, Freshman of the Year and Coach of the Year awards are beginning to take shape. Tu Holloway, barring a major, major, major, major, major meltdown is going to be named the Atlantic 10's Player of the Year. A distant second at this point is likely Justin Harper. Freshman of the Year is a little closer, but TJ McConnell did his part to take the lead at the "almost halfway" pole over Juwan Staten and Langston Galloway. Coach of the Year really at this point comes down to either Chris Mack or Ron Everhart. I don't believe anyone thought Duquesne would be 7-0 at this point, but the funny thing is, I don't think people thought Xavier would be 7-0 either. Xavier was hit with all these injuries and yet, still managed to smother everyone they've played. So, there you have it, Week 4 in the books, and 14 teams saw action; and somehow we are the Atlantic
10.
TEAM OF THE WEEK:
Xavier - They wiped out George Washington 81-74; That actually was to be expected. They also blew out Richmond by 23...in Richmond. That was not to be expected.
PLAYER OF THE WEEK:
Tu Holloway - I'm thinking about re-naming this award the "Tu Holloway weekly award" because he seems to win it every single week. He scored 22 against GW and 33 on the road against Richmond. If you care to look up everything else he did to satisfy yourself he deserves this award...be my guest.
GAME OF THE WEEK: Even though the teams stink, I've always said that OT games are special in conference play. That's why the 2OT game between LaSalle and Charlotte wins this award. LaSalle did end up winning 91-86 for those scoring at home. A more head-scratching stat...7092 showed up for this one. You mean you people can't stay at home and surf the web to see who the Panthers are selecting number 1? Andrew Luck staying in college has to hurt...
DUD OF THE WEEK: All the excitement, emotion, the chance to say "this is our year" and the Spiders lay an egg against Xavier, at home nonetheless. Count me among those who double-checked the score on that one.
STAT LINE YOU PROBABLY MISSED OF THE WEEK:
Yes, I'm done picking on Fordham's long A10 losing streak. But, honestly, Kenny Frease, who do you think you are? Xavier makes 29/30 Free Throws in the Richmond game and you went 3/4. How dare you screw up a 30 for 30 performance that might have made its way onto that ESPN show...ok, maybe not.
WEB'S DUQUESNE FLAVOR OF THE WEEK:
Honest Question: What will it take for this team to crack the TOP 25?