By Michael Weber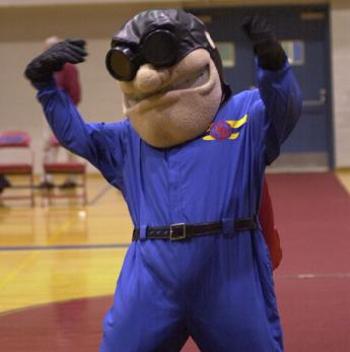 Someone with a big chin
Boy, this blogging thing has been a new and enjoyable experience for myself and I hope everyone else out there. I've been in contact with some bloggers from other A10 teams. I even got my own ballot in the BLOG25. Up next is a new friend of mine from the Blackburn Review. You can check him out right
HERE
. We've been in contact the past few days to put together a little preview for this game for all of the fans out there. It works like this: We each sent the other a bunch of questions to answer about their respective team. I'll post my questions and his answers. He has posted his questions and my answers. My answers are posted in a blog entry right
HERE
. I didn't have to think real hard about what kinds of information I wanted to get from him. You better believe we will get perspective on the Staten v. McConnell A10 FR of the Year race. I think I might of thrown in a question, or two, about how fans look at Chris Wright. Is he overrated?...underrated?...or about average? Of course I gave the Blackburn Review my official prediction for the game. One of the things he wanted to know was, yep you guessed it, why are we playing this one in the Consol Energy Center? If someone disagrees with any answer I've given, that's to bad. Just kidding, if you disagree, or agree actually, tell me about at the
YUKU MESSAGE BOARD
.
Here is the Q/A with Tom Blackburn:
1 - Juwan Staten was widely considered the preseason favorite for rookie of the year in the league. How would you handicap the race because I see it as a 3-way race at this point between Staten, McConnell and Galloway.
TB: As of today, the edge would have to go to McConnell. The Dukes sit atop the A-10 standings and much of that can be attributed to McConnell's play. Statistically, McConnell hits more high notes as well. He leads the league in steals, is one of the A-10's best three-point shooters and is basically averaging just one less assist a game than Staten. He is statically superior to Staten in almost every category. Outside of a Duquesne collapse, I can't see McConnell not winning the A-10 Rookie of the Year.
2 - Duquesne fans are certainly concerned about this game, but many of them probably didn't know Staten was playing sick against Richmond. Can you update us on what was wrong with him and his status for Sunday's game?
TB: Apparently, Staten picked up one of those 24-hour type of flus prior to the game against Richmond. It's a shame because it was a game that UD was in for most of the night and a healthy Staten certainly would have made a difference. Don't get me wrong, Richmond is the better team, but Staten at full health certainly could have changed the direction of that game. He'll be ready to go against the Dukes.
3 - I know yinz all don't have this issue out there in Dayton, but this weekend's game between Dayton and Duquesne will be played at the Consol Energy Center and not the AJ Palumbo Center. The CEC is literally right across the street but is the spacious home of the Pittsburgh Penguins. Seating capacity in the curtained off lower bowl will be roughly 9500. How do you see this impacting the game?
TB: For UD, it won't make any impact. The Flyers underachieve on the road no matter the venue, size of the crowd, game importance, etc. It won't have any effect whatsoever. UD will shoot the ball poorly and seem out of sorts from the jump. Although, they have some decent road wins this season against Ole Miss and Seton Hall, they historically underachieve on the road during conference play.
4 - Everyone and their brother, sister, mother, father and pets are wondering about that UD fan base and their travel plans. How many do you expect to be in attendance Sunday?
TB: It's usually a pretty stellar showing by UD fans in Pittsburgh. I have no clue how many are planning on making the trip, just know that there will be a sizable contingent in attendance (although some have probably changed plans after the loss to Richmond).
5 - A win over George Mason and New Mexico but a home loss to East Tennessee State...what gives? At 15-6 (3-3) is this game at Duquesne the season for Dayton? A loss and it all unravels from there?
TB: Yeah, I think so. A loss on Sunday brings the Flyers to a 3-4 record in the league with plenty of challenges lying ahead. I can't see a situation that would allow UD to play its way back into league contention. A Dukes win would put UD a full four games out of first place just seven games into the season. No team in the league is capable of making up that type of ground.
6 - I gada ask, because everyone wants to know, what in the world is up with Chris Wright? A lot of people believe he has regressed since he enrolled at UD. Is he still living on that high school hype? How is he perceived in Dayton?
TB: His legacy is fluid. For all of the excitement an athlete like Wright brings to a mid-major program like Dayton, there are some letdowns as well. Chris hasn't developed as well as many people thought he would/should. His perimeter game is subpar and his ball-handling skills are shaky at best. However, he still gives a great effort each time out and rebounds with the best of them. All told, he was an over-hyped player that never reached his predicted heights. Again, not a knock on the kid – he has been a consistent player for four years.
7 - If Duquesne wins and improves to 7-0 in league, could they challenge Xavier, Richmond and Temple for the regular season crown?...and...gasp...an NCAA Tournament berth?
TB: I hope so. I really like the Dukes program and appreciate the direction Everhart has taken it. I think it'd be good for the league to get out of that Xavier-Temple cycle each year. The A-10 has always been perceived, and rightly so, as a very top-heavy league. Teams like Duquesne and Richmond can go a long way in changing that image by becoming relevant players in the conference race each year.

If the Dukes get by UD on Sunday, they have an excellent chance of being 9-0 going into that all-important Xavier game. That's going to be a huge one for the Dukes. They can put a lot of the naysayers to bed with a victory against X. Truthfully, DU needs big victories in conference to contend for a tourney bid.
8 - In UD's last game, Searcy(6-10), Wright(6-8) and Johnson(6-6) started in the front court. How do you think Gregory will try to mix and match against Saunders(6-7), Clark(6-5) and Monteiro(6-5)? Everyone wondered the same thing against Temple until it was 22-2 to start the game...
TB: Although those guys are large gentlemen, they don't play as big as they are. Those will be interesting matchups because that Duquesne trio can take their games outside and make UD's big men play them on the perimeter – which doesn't play into UD's strong suit. If BG has taught us anything during his reign, it's that he is completely against changing up his style or strategy, regardless of the opponent or situation. Searcy, Wright and Johnson will start Sunday (and I guarantee they will start the rest of the year as well).
9 - How do you handicap the player of the year race this year and the first team all A10/14?
TB: If I had to guess on the first team: Tu Holloway, Bill Clark, Andrew Nicholson, Justin Harper and Kevin Anderson. POY: Between Holloway and Harper at this point.
10 - How is Gregory perceived in Dayton? I know Tom Izzo almost took the Cleveland Cavaliers job and that Gregory was rumored to be a replacement for Izzo. Tell me that wasn't true...or maybe UD wanted it to be true?
TB: His reputation is slipping. Last year, the Flyers were runaway favorites to win the conference and ended up going 8-8 in the league and toiling away in the NIT. This year, we are seeing more of the same, and the natives are becoming restless. The league is clearly on a downswing this season and UD is already out of the picture at the halfway point. The Flyers returned three starters and a senior with plenty of experience. Add in Staten, and Dayton should have been more competitive this year…at least on paper.
11 - I don't understand...North Carolina claims to be "First in Flight" and Ohio the "Birthplace of Aviation". Can you settle this for us all?
TB: Ohio is full of shit. Ohio is the birthplace of aviation in the sense that the plans and research were done there. North Carolina is where the actual first flight took place. Hence, NC has the rightful title of "first in flight." The logic fails me, but Ohio has taken it on full-force.
12 - Who is one guy that Duquesne fans probably don't know about that could drop 30 on us this weekend? Someone always seem to do this to Duquesne...I'm sure it happens to UD too.
TB: Not sure how well known Chris Johnson is in Dukes circles, but he is one guy that could spring for 30 if he got ridiculously hot from the perimeter. It ain't gonna happen, but that's the one guy that I could see going off. CW went off for around 30 against Akron earlier this year, but he's a rather well known entity at this point.
13 - Had you ever heard of TJ McConnell before he came to Duquesne? Did you know his aunt is Suzie McConnell-Serio, the head women's coach at Duquesne...not that it means anything.
TB: I definitely heard of McConnell before he came to Duquesne. There were some discussions about his signing around message boards last spring. Most of the debate centered on whether or not he would be the best newcomer in the league (I recall CJ Aiken of St. Joe's being involved in those discussions as well.) I know I'm not alone in following McConnell's progression this season. There was obviously a lot of interest in his game, as the Dukes had some pretty solid pieces coming back this year. Clearly, he has been a great addition to the Duquesne fold. You just can't say anything bad about the kid.
A14 - Give me a prediction for Sunday...and I don't mean that the sun will come up!
TB: The edge is clearly with the Dukes. UD underachieves on the road and I have to assume that Duquesne is playing with an incredible amount of confidence. I'm gonna say Dukes by six, 66-60. McConnell outplays Staten and Saunders pulls out a double-double, 20 and 11.
Bonus - We have a big one in this town after the UD game...Steelers v. Green Bay...handicap that one why don't cha!
TB: I'm going to be rooting for the Steelers. I'm a big Hines Ward fan and would love to see him win his third ring and walk away from the game on a high note. Steelers win 27-21.